It's 2018 and we celebrate our 31st year as a band. It seems like every year is now the anniversary of something we did a while ago. For instance…it's the 5th Anniversary of "the Most Beautiful Place on Earth," the 10th of "Cheerleader," 22nd of "Nest," 23rd of "Good Weird Feeling," the 25th of "Bedbugs"  and the 27th of "Neopolitan." We'll continue on our adventures and inventions so we can have a 10th anniversary of what we did in 2018, in 2028. This summer and fall are no exception. While we continue to work on the recording of our next album (coming along nicely) we are getting out there to play for you. We'll try out some new stuff and play all that other stuff you/we like.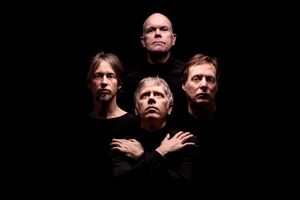 June 8th - the Barnburner at the Imperial in Vancouver. - this is the 3rd annual Barnburner featuring Odds, Barney Bentall, Dustin Bentall, Rich Hope and, this year Steven Page. Ourselves and Barney teamed up some years ago with the North Van District Firefighters Charitable Society to aid pressing causes in our community. Last year the funds were allocated to jack.org and we have, as a band, thrown a lot of weight behind this cause since that point. Jack.org is a peer to peer youth mental health safety net that is brilliant in its concept and effectiveness. Please look it up and support youth helping youth through to wellness. The event is a musical blast as we host these artists and create a rocking good time. Many cool artifacts and auction items are available to compliment your lives and contribute to the cause. tickets
June 29th - we'll be at the Laketown Rocks Festival in Cowichan Lake BC. It promises to be a beautiful rock explosion in a gorgeous place. There are camping spots and foods and all that jazz. Lots of our friends and collaborators will be there so who knows what will happen - Colin James, Big Wreck, Sass Jordan, Grapes of Wrath, Barney Bentall…it's a big list. tickets
July 1st - It's Moncton, NB for Canada's birthday. We'll be onstage with our chum Steven Page celebrating his Hall of Fame music and mashing it up a bit with our own Hall of mirrors music! We're looking forward to the fact the legendary Monoxides will also be on the bill. They're awesome. It's free family fun and I bet there will be cake. 
July 3 & 4 - We return to Halifax's fabulous Carleton Music Hall for two nights of raucous rock with Steven Page. It was a blast last time. It's a small place so it's already sold out but we're sure, if you're determined, you can stealthily figure out a way to see us. Fingers crossed. 
July 21st - We jet back to the City of Champions and blast off at Edmonton's "K-Days". It's an outdoor show in one of our favourite towns. Doug was born there and we had our first radio #1 there. Maybe we roll out a few more "Neopolitan" era tunes to celebrate. It's an outdoor show on the "Tim Horton's North Stage." None more Canadian than that. tickets
July 26th - We're back to another primeval and gorgeous location on Vancouver Island. We're finally playing the legendary Filberg Heritage Park in Comox BC. In addition to the regular songs you know from the radio we'll celebrate our "Cheerleader" anniversary with a few more tunes from that album. Murray is from Vancouver Island, and that was his debut album with the band, so we feel this is appropriate…and fun. tickets
There's a bit of a gap and then BOOM! 
Sept 13 & 14 - We will do two nights in Vancouver's intimate and great sounding Biltmore Cabaret. Celebrating the 23rd anniversary of our album "Good Weird Feeling" we will play it in it's entirety (then some other songs) utilizing some VERY special guests to sing certain songs. The only hint we will give is that these guests were in grade school when the album came out…and they liked it…and you will like them. This promises to be a blast and a good test of our memories. 
Here are the ticket links: Sept 13 / Sept 14
Looking forward to seeing you somewhere on this adventure.